Have you heard about Vivian Chow before reading my post ? Vivian Chow Hui Min is a popular singer and actress from Hong Kong, known as Mandarin artist. I became her big fans since 1990, 1 year after finished my elementary school :-D.
Vivian Chow known with her beautiful face, with a beautiful long hair. She has earned a reputation for being a kind and humble superstar. However, she did not forget her many great friends along her path to fame, nor does she become arrogant because of her popularity. Therefore, the media dubbed her as "?????" (Jade Girl) for her beautiful, yet elegant appearance, and pure heart.
I'm very crazy loving her 😀 since junior high school. It's looks like very funny and so ridiculous if I take a moment to remembered that's years. I ever said to my girl friend in the Junior High School (SMAN 2 Bekasi), "I will never marry with Indonesian. I will marry with her or someone who looks like her, a beautiful Chinese girl, with beautiful long hair." hahaha…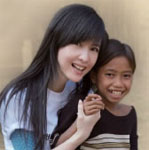 In the Junior High School, I've collected her photos, poster (I got 2 X 3 m of her poster in my wall. It take a half of width of my private room 😀 ). My mama saw her photos and said, "Vavai, take her here…" Hihihi… My mama assumed that she is an Indonesian girl.
In the middle of 1990, She came to Indonesia, sing a song at Hailai Discotique Club at Ancol. I still remembered that the price per table (for 5 attendees) approximately IDR 2 million. Imagine, in the middle of 1990, US$ rate were IDR 2000 rather than 9000 right now. It's so expensive but I tried to go to her show.
It's past over such years right now. I just keep smile if I remembered that's kind of moment. I got married with a beautiful Indonesian girl, My Dear Rey. My Dear Rey still remembered Vivian and noticed that she was her big rivals before I decided to married with her, hihihi…
So, if you got confused with my nick name on Y!, vchm_chow, you know that this name came from Vivian Chow. How about Kachow ? It was given by my college's friend who called me with "Ka" (Ka means brother) and Chow from Vivian Chow.
Vivian Chow Hui Min, I still her big fans right now, but she is just an artist, no more. I loved my wife so much. If Vivian say "I love you", maybe the answer is "Sorry, but I got married with a nice and beautiful wife" hahaha… Thanks for the spirit of life, Vivian.
Note : Photos taken from http://www.vivianchow.info, credited to Janice Lo. She was 40 year old now, but see her beautiful face, and see, how do you think…